Our couples absolutely love their sunset shoot photographs, and the experience they have when we shoot them.

Awesome takes planning
If you want a sunset shoot on your wedding day in Cyprus, you need to plan in advance the order and timings of the day to fit around the timings of sunset.
Timing of sunset
You can change any timing, but when the sun sets is when the sun sets, and that's why you need to plan to be in the right place, at the right time.
Message us in the box below, and we will look up the exact time of the sunset for you.
How long is a sunset shoot
The time needed varies from location to location, and couple to couple.
At one end of the scale, we slip out the back of the venue, go to the beach, and spend ten minutes shooting. This only works for some venues and locations.
At the other end of the scale, we whisk you away from the venue in a luxury limousine, drive you to some fabulous locations, taking advantage of the fantastic light as it changes before and after the sunset. This can take between an hour to an hour and a half depending on the locations.
Most couples go for something in the middle.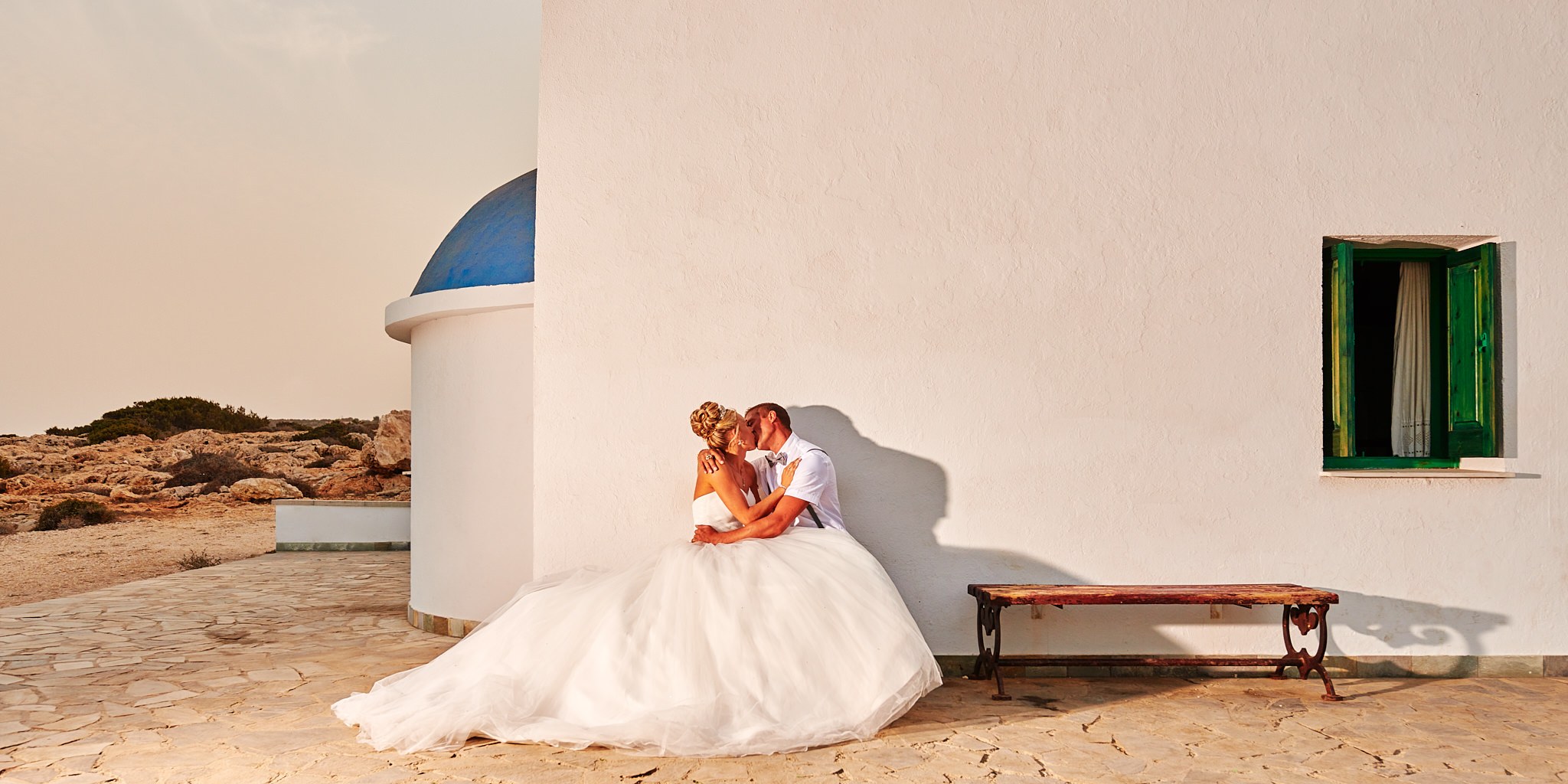 If you want a whole range of really stunning, yet different wedding photographs of just you two, then you need to plan to be in the right places, about a half-hour before sunset and twenty minutes after sunset.
Alternative sunset shoot ideas
We have shot sunset shoots on boats, buses, in cornfields, caves, on the beach, on cliffs, in the countryside, in fields under trees – all sorts – we work with you and your ideas.

Chat to Elizabeth
Chat to Elizabeth, to plan out, and understand, how much time you need for your sunset shoot. We know the best locations, where the sun will be, and when. Elizabeth can work out how this will knit in with the rest of your day.
Elizabeth is used to working with timings of the day and will help you work with your venue and other suppliers, to ensure we can provide you with the stunning photography that you want.
The key to this is engaging with everybody early in the planning process, so the venue, for example, knows that the meal timings are working around the timings of sunset.
When timings clash
The time of sunset is fixed, which sometimes clashes with your wedding breakfast or some other activity. If this is unavoidable, you don't need to miss out.

We can provide a sunset shoot on another day. This can be an extended relaxed shoot. With fewer time constraints, it's possible to really get some fantastic photography of you both in some fabulous locations.

Your dress
You don't need to worry about spoiling your dress on the beach. There are local cleaners that can clean your dress at a really good price, and box it for you ready to take home.
Footwear
Sunset shoots often take us to beaches, rocks and uneven ground. We will work with you.

You won't want to be wearing high heels though. Brides usually swap into something sensible while we are getting on location, and then switch shoes just before we shoot. Elizabeth can advise you on this.

Now booking weddings all over Cyprus, from 2023 onwards