Every year thousands of couples choose to get married in Cyprus. With a wonderful Mediterranean climate, fantastic views and sunsets and a laid-back approach, it's easy to see why.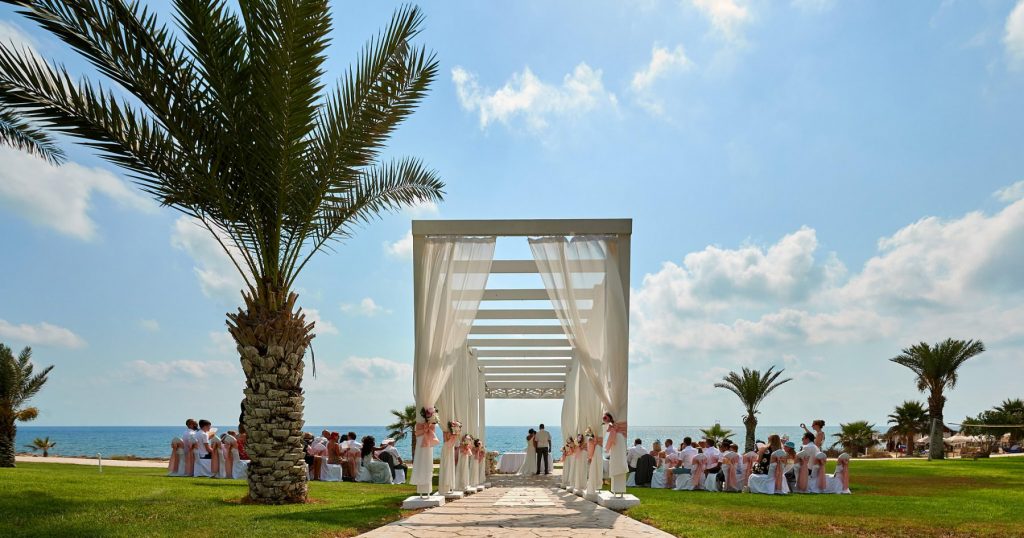 Ten reasons to choose Cyprus for your destination wedding
1. Fabulous weather
Basking in the sun for about 320 sunny days a year, you are going to have a glorious wedding day. See the best time of year to get married in Cyprus.

2. Venues for every type of wedding
Cyprus offers a diverse range of weddings and venues. You can marry in a church, hotels, on the beach, on a boat, in the countryside or city – there are so many different types of weddings in Cyprus. From swanky modern venues to rustic country and traditional Cypriot, there is a venue for everyone.

3. Fabulous family-friendly accommodation
Cyprus is very family orientated. You will find hotels and resorts are really family-friendly, a fantastic, safe place to come with a family of all generations. Of course, there are a few adults-only hotels that cater to couples. Many couples and groups also choose to hire villas and apartments, there is so much choice.

4. Warm hospitality and charming traditions
Cypriots do go the extra mile to make you feel welcomed, and if you venture out of the resorts you will find charming family-run tavernas, who really make you feel at home. Often, a free drink or plate of fruit will follow a meal "on the house".

5. Wedding and honeymoon combined
Couples often stay on in Cyprus, or book into another hotel, away from their guests after their wedding. Cyprus is an ideal Honeymoon location with plenty of world-class hotels and resorts.

6. Natural beauty and diverse scenery and Blue Flag beaches
With breath-taking views, massive landscapes and seascapes, awesome beaches, forests mountains and beautiful countryside Cyprus have it all. The wonderful views all over the island, make a stunning backdrop for your wedding and of course your wedding photographs.

7. The gorgeous Mediterranean light ensures timeless wedding photos
As a photographer, I can't describe how great the beautiful light is in Cyprus to work with. From the sunsets, the way the sea and the sun interact are a joy to work with. Every day is different, but the light always adds a touch of magic for us to weave into your wedding photographs.

8. History and culture
Discover the history of Cyprus which goes back 12000 years into prehistoric times. With UNESCO World Heritage sites and natural parks, Cyprus is steeped in history and culture. Everywhere you go there are layers of a rich layered culture. Influences are everywhere from the Greeks, Byzantines, Romans, Ottoman and more recently the British. Cypriots are warm-hearted people who love their traditional festivals and enjoy a slow island way of life.

9. Marrying in Cyprus is so relaxed
You, your family and friends will just come over and enjoy the wedding. The stresses of a wedding back at home disappear. The network of fabulous suppliers here just makes weddings happen.

10. Cyprus is the island of love
Aphrodite, the Greek goddess of beauty and love is said to have risen from the turquoise seafoam just outside Paphos. Since then Cyprus has been known as the Island of love, and what a perfect place to get married.

Now booking weddings all over Cyprus, from 2023 onwards