Before your wedding, we will come and meet you in a face to face pre-wedding meeting. This meeting is where we run through everything about your wedding day. You want your wedding to run smoothly, so that's why we spend the time to make sure that we cover everything.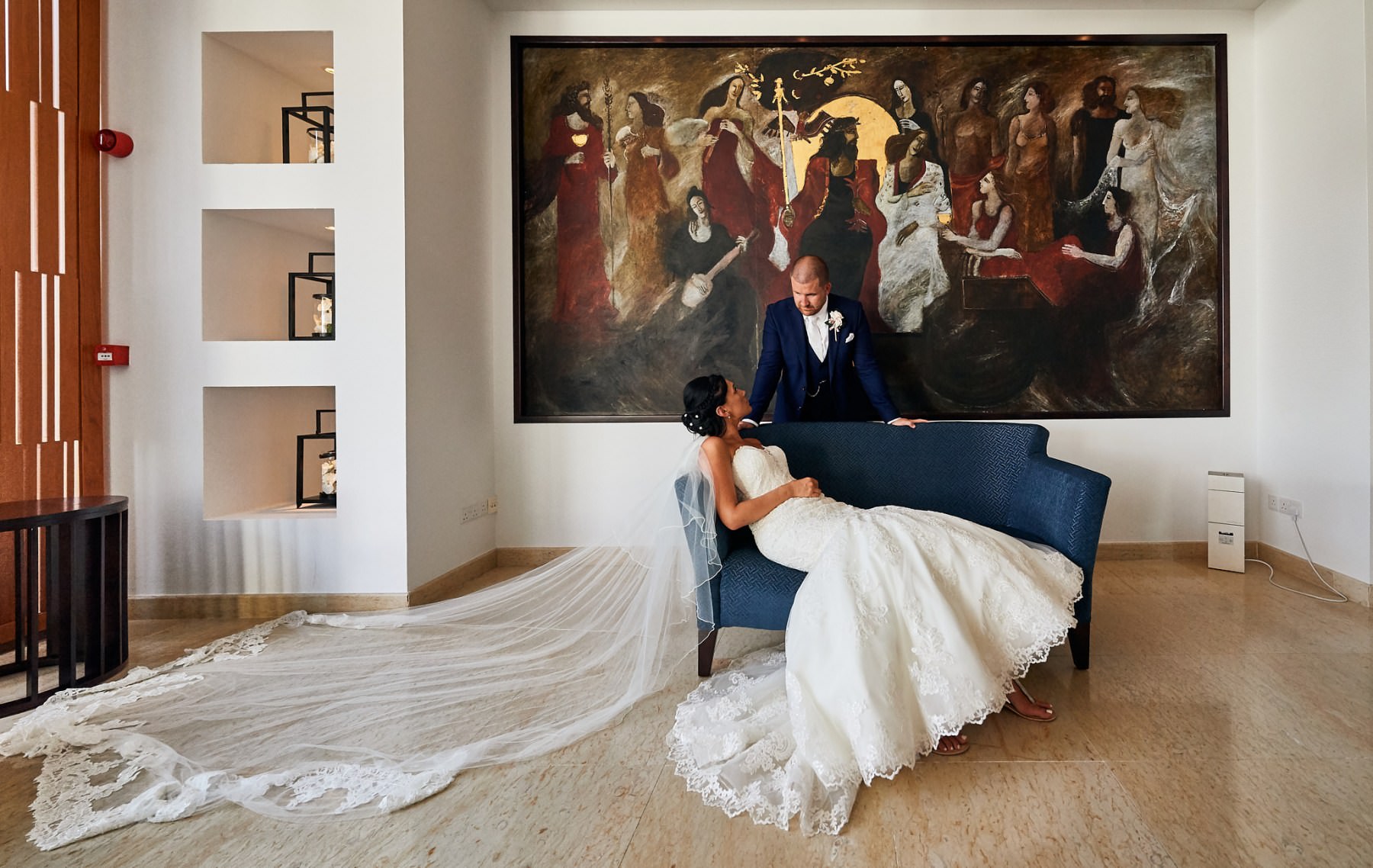 When will the meeting be
We usually wait until you have been in your hotel for a few days and have seen your wedding planner. Most of the time this is a few days before your wedding. Elizabeth will be in contact with you to make the appointment. We usually plan these in advance, but stay in contact with you before the meeting, to confirm things with you.

Where will we meet you
At your venue or hotel. We come to your wedding venue or hotel to meet you, it's all part of our service.

How long is the meeting
Meetings take between forty-five minutes and an hour and a half, depending on how busy your wedding is.

What is discussed
We run through the entire day, so we need to know about timings, surprises, and the major events of the day. We go through all the details with you, so bring any paperwork you have. On the day, we use an APP to keep us informed about things in real-time, like changes in room numbers.

Timings
You will need to provide us the finalised timings of the day. We will have already had discussions with you about sunset timings, and the time we need for shooting specific events, so this ought to be a final wrap up of what we already know.

Care requirements
An understanding about guests who are infirm, young children, or those who have specific needs, helps us prioritise things on the day, and lets us know who we need to be sensitive to or take extra time or care with.

Your holiday timings
To ensure we are using the right way of communicating with you, at the right time, we will check with you when you leave Cyprus, and if you are going on a honeymoon somewhere else.

Locations for your sunset shoot
If you want a sunset shoot, we will run through the details of where we are going to do this. We consider what is happening locally and then confirm locations and timings with you.

Family dynamics
Most families get on with each other. If we cannot put Uncle John and your Father next to each other, because they do not get on, let us know. We get many fun family issues to tiptoe around.

Room numbers
We will need to know room numbers, for where the bridal party and groomsmen are getting ready. You probably won't know the Grooms getting ready room until the day of the wedding. This is fine, Elizabeth will contact you on the morning of the wedding, and pop it on our APP for the team to see.

Phone numbers
To make sure we can all contact each other on the day, we will swap local phone numbers and create a WhatsApp group. This is great for dealing with questions on the day like: Where are the flowers? Most couples pop the members of the bridal party in too.

Who is giving you away
It is not always the Bride's father giving her away, or coming into the room, for the reveal of the dress, so we just double check who is doing this, before we make any mistakes on the day.

Location of things like rings and flowers
When we come to the Bride's room, we shoot all the details like flowers, dresses and rings, etc. We double check with you where everything will be, and when things like flowers are to arrive.

Surprises
Surprises are great, but we need to know about them. If you have surprises for each other, let Elizabeth know. If you have surprises planned for the guests, let us know at the meeting.

Videography requirements
If we are shooting wedding videography for you, we run through the specific things you need to know about.

Videography and photography requests
Have your "must-have list" ready, along with any special requests you have for us. In terms of us covering your day, we don't want to miss anything.

Back home party timings
Back home, if you are having a wedding party, surprise guests with a slideshow or a handful of photographs. We will need to know the date of this party, and what you need from us.

Posting embargo
Some couples want us to not post anything on their social media, before their party back home, and keep everything under wraps. If this is the case, let us know.

Speeches
You will need to let us know if your speeches are before or after your meal. This lets us plan the bit of the day, where we move a lot of equipment about, while you are eating your meal. We need to know the format of the wedding speeches, as this will determine how we light and shoot them.

Cake cutting
The venue will have chatted to you about cake cutting, all we need to know is where and when. We need a moment alone with the cake too, to shoot a few detail shots.

First dance and dad dance
Can you let us know if you are having a first dance, Dad dance or a Bride Squad dance, etc. We will also need to know what music you have chosen too.

Fireworks and sparklers
Let us know if you have any special effects like fireworks, sparklers, or smoke machines, as we need to set up slightly in advance, with the right equipment.

Tossing the bouquet
We will organise this for you with the DJ.

Discussion about dress and footwear
Shoes and dresses on rocks and beaches can be challenging. We will have a brief conversation with the Bride alone to discuss this. Bring a picture of the dress on your phone.

When we take you on a location shoot, we need to make sure that you are safe. We will advise you about footwear and how we will handle your dress.

What happens after the wedding
After your wedding, we do a lot of things we do for you. We run through this with you, so you know what to expect.

Update addresses
Couples book us up to three years before their wedding. Things change. That is why we will double-check, and update your address for deliveries, etc.

We walk through the locations with you
It is easy to assume we are all talking about the same routes and locations at a venue. To make sure we are all talking about the same places, we will quickly walk through all the locations for your wedding day. While we do this, we discuss photography and videography opportunities and know about any issues we need to workaround.

Advice on your walking in routine
Over at the ceremony area, we will all look at the way the wedding party plans to walk in. We need to get the right angles covered.
Now booking weddings all over Cyprus, from 2023 onwards