Laura and Mark's journey, leading up to getting married at the Nissi Beach Resort, in Ayia Napa, started over five years ago when they met through a mutual friend who worked with Laura.
Laura said, a few days before the wedding, that their first date was at a restaurant, and then they went bowling after, and that their second and third date was Hull fair.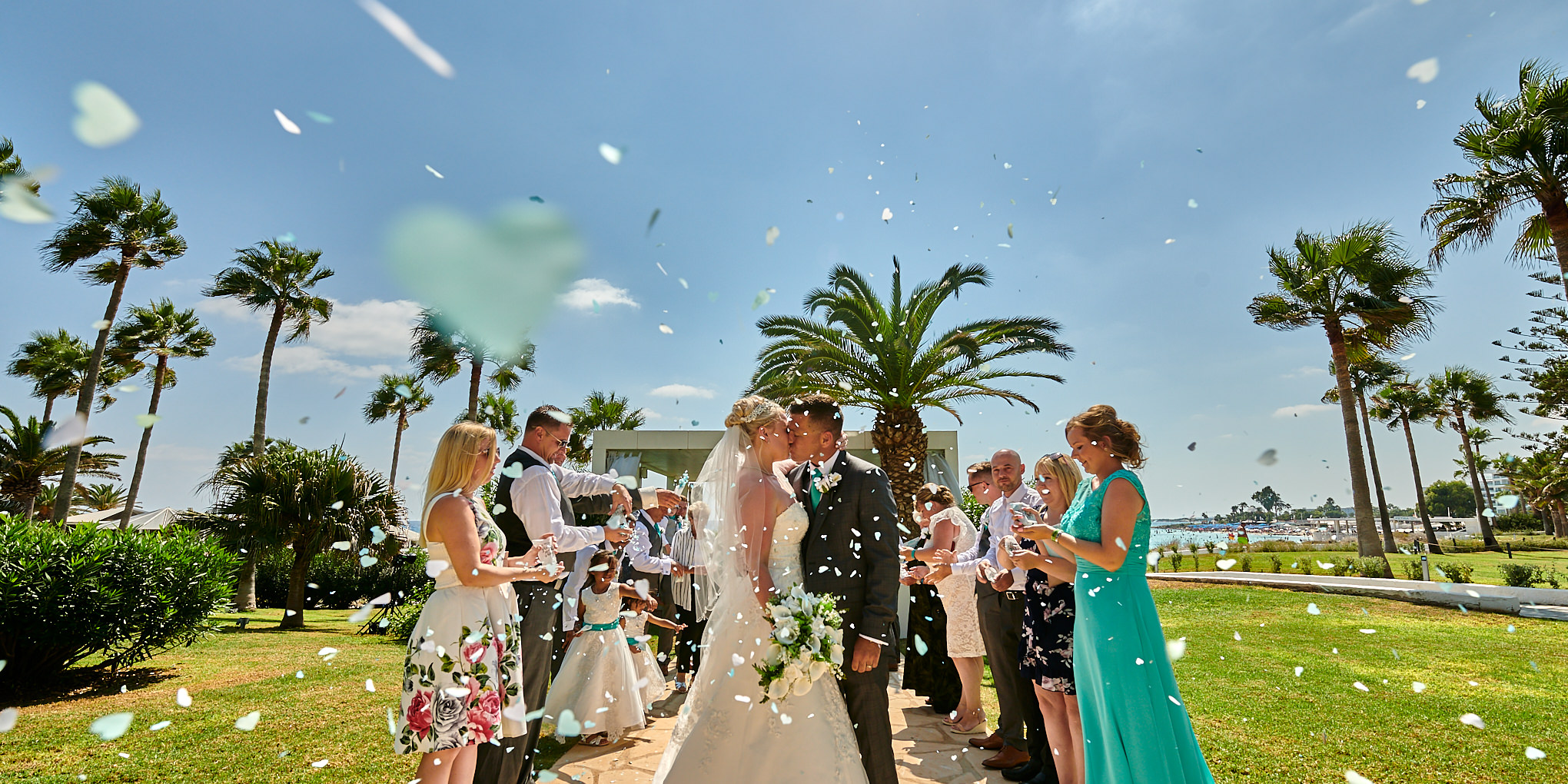 The romance blossomed; Laura explained that five years from today is the day Mark asked her to be his girlfriend. They moved in together five months later, a few weeks later they found out Laura was pregnant with Lucca, their little man.
In June 2017 Mark asked Laura to marry him… Laura said that we just picked Lucca up from nursery and Mark just couldn't hold it in… He asked me to marry him there and then (he couldn't wait, he had planned to take me out for a meal).

Laura and Mark picked Nissi Beach Resort as it was so relaxed, they wanted a relaxed, informal wedding but still slightly formal.

The wedding day
On the wedding day itself, some guests had flown in as a surprise.  Don't miss the look on Laura's face when she walks down the aisle and realises her friends which she thought could not come to her wedding had flown into Cyprus especially.  Lucca, who was in charge of ring security, along with the bridesmaids – had different ideas about walking in…  They sprinted in, and then Lucca ran straight back out and walked in with his mum, Laura.

After the wedding, we went for a couple shoot and found some wonderful flowers and trees as a backdrop followed by a sunset shoot at the Sea caves in Cape Greko National Park.  We returned for the speeches, the meal, and the celebrations.

It was a total delight to be a part of Laura and Mark's wedding day. We wish them both, and Lucca, and the rest of the family the very best for the future.
Lots of Love
Richard & Elizabeth
Now booking weddings all over Cyprus, from 2023 onwards